Hyundai Elantra Dashboard Lights

Picture this: You're cruising around Littleton, Parker, and Castle Rock, CO, when you see a dashboard light turn on. Would you know what to do?
At McDonald Hyundai, we want to make sure local drivers like you are always prepared when you need to be, so we created this guide to the Hyundai Elantra dashboard lights that drivers in our area are most likely to encounter.
Check it out and then contact our service center team to schedule service.
Hyundai Elantra Dashboard Light Descriptions
First things first, note that most of these dashboard lights will briefly illuminate when you initially start your engine. This is not any cause for concern. Instead, pay attention to the warning lights if they stay on after startup and those indicators that turn on while you're driving.
Not all dashboard lights indicate an emergency. Many are simply there to let you know that a feature is functioning properly. In this guide, however, we'll be focusing on lights that require prompt action or attention.
Anti-Lock Brake System (ABS) Warning Light: The ABS Warning Light looks like the letters "ABS" in a circle. It indicates that your anti-lock braking system may have malfunctioned. The regular braking system will still work, just without anti-lock protection, so proceed with caution and schedule service as soon as possible.
Malfunction Indicator Lamp: The Malfunction Indicator Lamp is also known as the Check Engine light. This could indicate potential catalytic converter damage. Do not continue to drive with this light on because it may cause damage to the emission control systems, which could affect drivability and fuel economy. Schedule service at your local Hyundai dealership immediately.
Charging System Warning Light: When you see a light that looks like a battery, immediately turn off all electrical accessories because it indicates that your battery is not being charged. Pull over when it's safe to do so and check the alternator and drive belt for looseness or breakage. You can also have this checked at a certified Hyundai service center.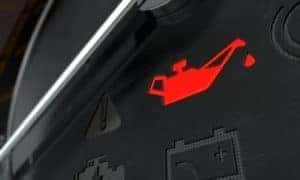 Engine Oil Pressure Warning Light: This light looks like an oil can dripping liquid. When you see it, your engine oil pressure is low. It can be a good indicator that you're due or overdue for an oil change. To avoid potential engine damage and performance issues, do not drive with this light on. Instead, go to your nearest service center as soon as possible and have your oil levels checked.
Low Tire Pressure Warning Light: The Low Tire Pressure Warning Light looks like an exclamation mark inside a tire. It could mean that your tires are losing air or are not properly inflated. Find your nearest gas station to put air in your tires to the recommended PSI as soon as possible to avoid potential frame damage or loss of traction control. Also check for any holes or nails in your tires. If you've refilled your tires and the light still hasn't turned off, your tire pressure monitoring system may have malfunctioned and needs to be seen by a professional.
We'll Diagnose Your Dashboard Lights
We hope our Hyundai Elantra dashboard light guide was able to help you feel more prepared when out on the Littleton, Colorado, area roadways. If you see any lights while you drive through Parker or Castle Rock, contact the service center at McDonald Hyundai and we'll gladly look over your car.
Contact us to schedule service today!