If you're looking for the perfect commuter vehicle that's brimming with technology and safety features, you may find yourself torn between the 2020 Hyundai Sonata and the 2020 Honda Accord. Both offer a ton of features that enhance your commute while also working to keep you safe.
Shop the Hyundai Sonata inventory
To help our friends in the Littleton and Parker areas, we here at McDonald Hyundai have put together this Hyundai Sonata vs. Honda Accord car comparison. In this, you'll learn more about the features that set each vehicle apart, so you can decide which one is right for you.
Ready to get started? Keep reading!
---
Hyundai Sonata vs Honda Accord Technology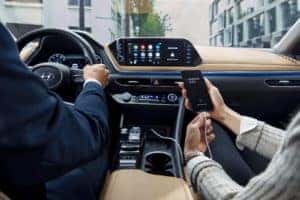 Once settled into the available leather upholstery of each vehicle, you'll find a collection of interior amenities to make your commute as comfortable as possible. However, with the Honda Accord, you may find yourself having to pay extra for the same features that come standard with the Hyundai Sonata.
Audio
While only available with higher trim levels of the Accord, you'll find both Apple CarPlay® and Android Auto™ standard on all Sonata trim levels. These features allow you to pair your smart device to your car so you can easily access music, contacts, navigation, and more.
After connecting your smartphone to your sedan, you'll want to make sure you're getting the best sound possible. Again, there's just no competition when comparing the sound systems of the Hyundai Sonata vs. Honda Accord.
If you want to feel like your favorite musical artists are performing your own private concert in your Sonata, you'll love the available Bose® premium audio system and all the power that its 12 speakers produce. Unfortunately for Accord drivers, you'll find only 10 available speakers after upgrading your audio output for the second time.
Infotainment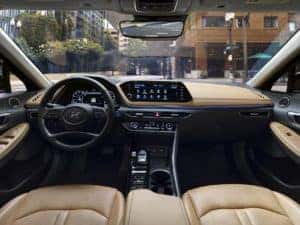 Having a screen large enough to safely navigate your center display is necessary. With the Honda Accord, you'll have to navigate the 7-inch display screen with far more effort than you would compared to the 8-inch touchscreen display of the Hyundai Sonata.
The good news for Accord drivers is that you can choose to upgrade your center display to an available larger, 8-inch touchscreen display. The bad news is that Sonata drivers can also upgrade their center screen to an even larger available 10.25-inch touchscreen display.
Bonus Technology
In addition to having a better sound system and larger center display screen, the Hyundai Sonata has a technology feature that isn't even offered with the Honda Accord. The available Remote Smart Parking Assist (RSPA) allows you to sit back and relax while your vehicle parks itself.
After finding a parking spot, you can press a button either inside your car or on your Smart Key to have your Sonata either pull in or out of a spot without your help.
---
Safety Features
In addition to staying connected throughout your commute, you'll always want to stay safe and confident behind the wheel. Both sedans offer safety features to help accomplish that, but the safety features of the Honda Accord just can't compete with those of the Hyundai Sonata.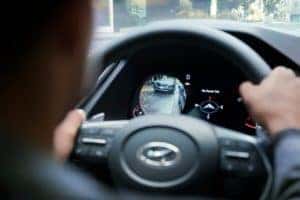 Take, for example, the blind-spot systems of both vehicles. With the Honda Accord, this available system uses a series of sensors located at the rear of your bumper to detect an object that may be in your blind spot. If an object is detected, a warning icon will illuminate on your side mirror.
The Hyundai Sonata took the same idea of the blind spot information system of the Accord and took it to a completely new level. When driving the Sonata, once you enable your turn signal, the available Blind View Monitor (BVM) will project a live feed of your bind spot. This feed is displayed on your digital instrument cluster.
With the Blind View Monitor, you won't just see a light warning you of an object in your blind spot, but you'll also receive a real-time video display to add an extra layer of protection.
Hyundai Sonata: The Clear Winner
After reviewing the technology and safety features when comparing the Hyundai Sonata vs. Honda Accord, the Accord just can't keep up with the superstar Sonata.
To see yourself cruising the streets of Littleton and Parker in the all-star sedan, visit us at McDonald Hyundai to test drive the Hyundai Sonata today!