---
What Is the Malfunction Indicator Lamp Light?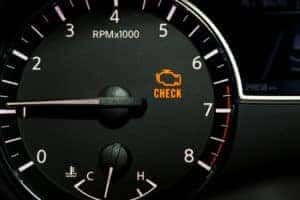 Description: The outline of an engine.
The emission control system prevents your Hyundai Tucson from expelling too much exhaust and other fumes. This light indicates the system is malfunctioning and you should take your vehicle to a service center.
There is an exception to this definition—it is normal to see this light if you turn on the electrical system without starting the engine.
What Is the Parking Brake & Brake Fluid Warning Light?
Description: An exclamation point and the letter P inside circles. Beneath them, the word BRAKE.
This light can simply mean that your parking brake is applied. If that is not the case, it suggests that your brake fluid levels are low and should be refreshed. If this doesn't make the light turn off, your brake fluid may be leaking.
Other signs include fluid drips beneath your car or an unusual feel to your brakes. Take your car to your automotive service center if this issue becomes apparent.